Before I start, I've nothing against the software, nor the producer of it. The issue I have is how it's used, and how it's taken over our lives.
I've spent the last 10 years helping people deliver their messages to internal and external audiences – so I guess you could say I've seen and experienced a lot of seminars and presentations. I've helped CEO's of FTSE 100 companies deliver their messages and I've worked with dozens of salesforces, consultants and marketing departments create and deliver messages to persuade, 'cajole' (good word) and win business.
In short, I've seen the good, the bad and the ugly when it comes to presenting.
Despite the length of time I've been doing this. I'm now more fascinated in the subject than ever. Why?
I'm surrounded by friends and colleagues in the corporate space and I'm hearing more than ever the phrases:
"I need to work late to finish my slides"
"They need the slides 24 hours before the meeting"
"Can you help me with my slides"
"I need to get my slides out"
ARRRRRRRRRRRRRRRGGGGGGGGGGGGHHHHHHHHHH
Everywhere I look there are slides being produced and emailed to hundreds of people. Slides which have hours put into them. Slides which have to win over an argument, persuade, educate and rarely do.
Why?
Because 90% of the time, sending a set of slides is not the answer.
Slides are something to hide behind when presenting an argument
Slides are typically part of a 'read along with me' session
Slides should more often than not be a report or document
Slides do not contain your personality
Slides alone do not persuade, sell or cajole
Slides don't get read or understood, they get flicked through
Slides rarely add to your argument
Slides make you work late and rarely give you a return on your time
Slides come second. You story comes first. Most people work the other way round.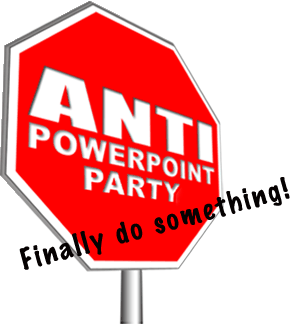 Believe it or not, last year in Switzerland, Mattias Poehm founded a political party dedicated to the eradication of Powerpoint. Awesome. I might just join.
You probably don't need to be quite so radical, but what's my answer?
Here are 10 alternatives for getting your message across.
Still need to get visual? Master Prezi. It will make your audiences sit up and listen
Read Pitch Anything! By Oren Claff to understand how to construct your story.
Use Camtasia (great price here) / Screenflow for MAC to produce a narrated demo to bring your story alive
Read Resonate to understand how to construct the visuals for your story. (I'm reading it now and it's brilliant)
Refuse a projector. Be brave, stand up and just talk. Use notes and make sure you've prepared your story.
Don't use a single bullet point. Use images only. Images are memorable. Spend a few dollars on some images – what return might you get?
Do something different. If you're given an hour, figure out how to take 10 mins to deliver the same message. Give you audience the gift of time. Hook them in enough to want more and create conversations afterwards.
Use a whiteboard or a flipchar, learn to draw, develop a story. Make it personal.
When someone asks for 'slides' ask why. Ask them whether a narrated screencam might be better. Narrate 10 mins over some slides and send them the video. This way you don't need to have the presentation after all. I do this a LOT and have had tremendous results. Then, when you then actually get to meet someone, they know what the message is you're looking to deliver, because they've heard and seen it in advance. You can then use the time together constructively.
If there's nothing on screen, you are the focus. Your words get listened to. Choose your technique based on your message and your audience.
Try something. If you work as part of a large team, join me in banning PowerPoint in your business for a day and see what happens.
0
0
Mark Copeman
https://markcopeman.com/wp-content/uploads/Mark-Copeman-site-logo.jpg
Mark Copeman
2012-11-04 08:59:42
2012-11-04 08:59:42
Alternatives to PowerPoint